In 1966, as an engineering student at the University of Utah and manager in the games department of Lagoon Amusement Park, Nolan Bushnell discovered Spacewar and fell in love.
Developed in 1961, Spacewar was one of the earliest computer games, in which two players attempt to shoot down one another's spaceships while avoiding collision with a central star.
Bushnell was so taken with the potential of this fledgling computer game industry that he decided to go from fan to developer when he graduated two years later. He started creating his own games and in 1972 commercialized the arcade game Pong, which put his fledgling company, Atari, on the map. That game—which simulates table tennis—became one of the first arcade games to reach commercial success.
But the start for Bushnell's groundbreaking game wasn't so illustrious. He put an early Pong machine in a neighborhood bar to field-test it. Just weeks after it was deployed, Bushnell got a service call on the unit. He was shocked that the machine could malfunction so quickly.
"I thought, 'It can't be that bad,'" recalled Bushnell. "It turned out the coin compartment was full. That's when we knew we had a win."
It was the start of a lifelong career of innovation for Bushnell, who also went on to found Chuck E. Cheese (created to drive his arcade business) as well as devise the technology that drives today's GPS systems and launch a personal robotics company. He was Steve Jobs' first boss at Atari and has become known as the founding father of the video arcade industry.
Today, Bushnell is a renowned author and speaker and was one of the innovation icons who gathered at Case Western Reserve University in September 2015 for the Innovation Summit, a three-day conference that drew trailblazers from the fields of technology, medicine, manufacturing, academia and others to share ideas and best practices.
Here's a look at the innovation wisdom that Bushnell and other speakers shared with the Summit's attendees.
Innovation, Invention or Idea?
Too often, interesting ideas are conflated with innovation, but ideas aren't enough to fuel innovation.
"We see a lot of people fascinated by their own ideas and looking for someone who wants it," said Jeff Hoffman during his keynote speech at the Summit. "It's the wrong side of the funnel. Successful entrepreneurs … say, 'Does this problem bother anyone but me? Is there a solution and I don't know it?'"
Hoffman is a serial entrepreneur who's been part of eight startups. He's best known as co-founder and CEO of Priceline.com and now travels the world working with young entrepreneurs to help them turn interesting ideas into businesses based on authentic innovation.
"There's a sign in my office: 'Ideas are welcome, but execution is worshipped,'" Hoffman continued, urging entrepreneurs to become the best they can in one area instead of chasing six ideas. "If you win a gold medal in one thing, the public comes to you for everything."
Ellen Williams often sees a similar tendency in the scientific community to stop at ideas before they can become useful innovations. Williams directs the advanced research program APRA-e at the Department of Energy, where she focuses on developing energy technologies that are too early for commercialization but could drive the agency's goal of reducing energy imports, improving efficiency and lowering emissions of carbon dioxide.
"There's a tendency to just keep doing more and more research," Williams told the Innovation Summit audience. "We want [innovators] out there getting their technologies into applications. … We want them to bring us their ideas and ask, 'If we can make your idea work, will it matter?'"
Even if an idea can come to life, it's still not necessarily an innovation, agreed the Innovation Summit speakers. "If you follow innovation around, monitor it, it has no value until it has a customer standing next to it," said Jim Clifton, CEO of polling firm Gallup and one of the summit's keynote speakers.
In healthcare, most people associate innovation with the latest in surgical techniques and high-tech medical devices, but "innovation is not about technology," said Innovation Summit panelist Dr. Marco Costa, chief innovation officer for University Hospitals in Cleveland, a system of 15 hospitals and $4 billion in revenues. "In transforming healthcare, we have to stop talking about patients and start talking about humans."
It's process, not product, where innovation is needed in healthcare, he said. "If I am successful, my job should not exist in five years," Costa said.
Only people, not computers, can develop innovations that are meaningful to others. While developing the Kinect technology at Microsoft, which uses scanning technology to match body movements with game play, developer Miko Charbonneau put her team through comparable real-life experiences.
"We all went whitewater rafting to develop the [Kinect Adventures!] rafting game … then we developed a brief that combines these experiences with research," said Charbonneau, who is now part of a team developing the Microsoft HoloLens, an untethered holographic computer that integrates 3D images into the user's environment.
Take a look at the formal definition of technology—Merriam-Webster says "the practical application of knowledge especially in a particular area"—and Charbonneau takes issue with the idea that technology must always be practical.
"I know that practical means doing instead of thinking of something, but that's selling technology a little short," she said. "Technology can be used to make lives better."
Community Counts
The need for a community that supports innovators was a common theme throughout the event, and many of the speakers saw hopeful signs of such a network growing.
"The trend is that there will be good opportunities for collaboration with those who have experience and those who lack it, a blend of passion with sage advice," Bushnell said.
The environment in Silicon Valley is uniquely constructed for the benefit of innovators. But the Summit speakers agreed that such support systems are needed for entrepreneurs in other parts of the country.
"Ninety-eight percent of the U.S. landmass has the problem that private investment isn't a natural thing that happens," says Ray Leach, CEO of JumpStart, Inc., a venture development organization supporting entrepreneurship in Northeast Ohio. "You have to find a set of actors who are willing to invest in something that's less proven than it would be elsewhere."
One asset that can play a role in creating hubs of innovation outside of areas like Silicon Valley are makerspaces like the Larry Sears and Sally Zlotnick Sears think[box], a $35 million, 50,000-square-foot facility at Case Western Reserve University that's open to students, faculty and the general public to access equipment and resources to develop new products and technologies.
"Visit a makerspace any day and you will see more than just people hunched over laser cutters," said Deborah Hoover, president and CEO of the Burton D. Morgan Foundation. "The best makerspaces give opportunities to weave entrepreneurial skills into the creative process. …We must do all we can to make sure more [creative ideas] see the light of day in the marketplace."
Because the environment in Silicon Valley is so investor-driven, Hoffman sees some entrepreneurs led astray by their pursuit of money versus commercial success, evidenced by pitches by startups that frequently address the potential business's exit strategy.
"Exit strategy? What's the entrance strategy?" Hoffman said. "Successful entrepreneurs never say, 'I just want to get rich.' When you chase excellence, the money will follow."
No Flying Leaps
Every act of innovation must start with a plan, said Charbonneau. She starts with goals and works her way through to completion, allowing time in that process to fail and try again.
"The trend is showing transparency in technology development," she said. "Having a structure is less scary than just jumping off into the darkness."
The Innovation Summit speakers agreed that many companies lack a plan for creating innovations that are meaningful to customers.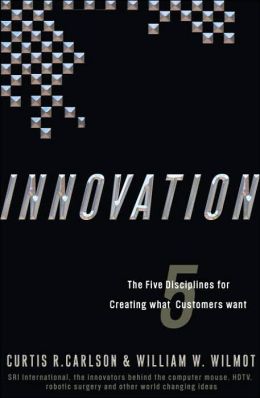 "Every CEO will at least give lip service to the idea that the world is moving faster and that we need to do a better job at innovation," said Curt Carlson, former president and CEO of research and development firm SRI International and co-author of
Innovation: The Five Disciplines for Creating What Customers Want
. "But if you go into an organization and ask people to describe their innovation system, you get blank looks. They have none."
But innovation isn't something that lives only within the halls of startups. Long-established corporate giants are showing equal commitment to uncovering new and innovative ways of doing business. At Fairmount Santrol, a publicly traded $1.3 billion company serving the oil and gas markets, innovation has driven a new commitment to sustainability that's having a significant impact.
"[Fairmount] has 25 zero-waste facilities—these are mining companies at zero waste," said Chuck Fowler, Fairmount's retired president and CEO, who now serves on the advisory board for the Fowler Center for Business as an Agent of World Benefit at Case Western Reserve University. "Sustainable development pays, not just in dollars, but in the community, in families, in goodwill. It's doing well by doing good."
Creating innovation in established, large companies is very difficult, said Carlson. "Companies used to face competition from the top or bottom, now it's experiencing pressure from the sides," he said. "It's hard in an established industry to move fast enough to compete. … There's never been so many opportunities for innovation, but you need to do the right things to have your company be sustainable."
Jack Daly, partner and managing director of Goldman Sachs and a panelist at the Innovation Summit, says his organization accomplishes this with a mentality of support by upper management for those on the ground. "For me, it's individuals inspiring other individuals to go out and do things," said Daly. "We have 33,000 employees, and I've never felt more entrepreneurial."
Only Living People Need Apply
"The most important thing is don't hire dead people," said Bushnell. "People tend to die from the neck up long before they are buried. … To have people just putting in time will sap the life out of your business."
There are common characteristics of people who take an entrepreneurial approach to innovation.
"The nonstarter is extreme determination," said Clifton. "With regular determination, I knock him down and he has to find a way to deal with it. With rare determination, if I knock him down he's madder than he was before."
Another is innovators' relationship to risk: Clifton says people often believe that entrepreneurs don't mind taking risks. But in reality, "really good entrepreneurs hate risk," he says. "They [have] such high confidence that they think the regular rules don't apply to them."
They also spot disruption everywhere they go, says Clifton, opportunities to shake up a market in a way others don't see. Carlson calls it finding "white space," the spot in a venn diagram of customers, capabilities and competition where customers and capabilities align but competition is absent. "The center is the worst place. It's where your competition is," he said.
Daly sees these characteristics in the millennials he hires.
"I'm pretty bullish on that generation," Daly said. "They are well-developed, they are rigorous in their pursuits … they have character-building in that generation that few other generations have now."
The challenge for today's business leadership is to encourage young people to create the future innovations their predecessors might never have dreamed of.
"Some people, when they hear 'no' once, it gets them off that path forever," says Charbonneau. "The culture I hope we can encourage youth to pursue [is] you can hear 'no,' but it doesn't mean that you're stupid or should stop trying."
At Microsoft, there's an emphasis on having good managers "who can help you shine on your projects and become your own leader," Charbonneau said.
Every project has to have one passionate leader. "No champion, no project, no exception," Carlson said. "If someone doesn't raise their hand, it's just not going to happen."
Today, Bushnell takes a whimsical approach to his innovations. He plays what he calls the Dice Game, writing up 11 challenges for the next year, putting them in a hat and rolling the dice to see which he'll tackle.
Last year's challenge—a musical based on Pong—hasn't materialized, but the Dice Game did urge him to write a book, Finding the Next Steve Jobs, in 2013 despite his dyslexia.
"Be willing to fail. Don't try to fail, but be willing to," he said. "I want to invent the future that I want to live in."
Miss the Innovation Summit at Case Western Reserve University? Here are some highlights:
Discover how you can take your bright ideas to new heights - explore how Case Western Reserve University's Weatherhead School of Management can help you think brighter and aim higher.
Image CC BY-SA 2.0 "Cleveland Mall" by Erik Drost